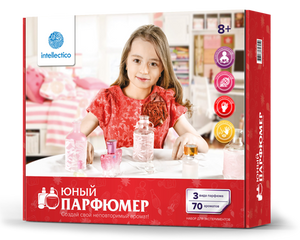 Medium perfume set "Young perfumer
16,900.00 AMD

16,900.00 AMD
---
---
 Kit Description
The second part of a series of large sets "Young perfumer." Even more essential oils and all sorts of components. With their help, children will be able to get more than 70 unique flavors. Creative search will entice young perfumers for several weeks. They will be able to create perfumes based on natural oils and real perfume using a substitute for alcohol. In addition, the set includes wax to get a solid perfume. To keep your favorite fragrances convenient, we added a bottle with a spray bottle and a gift bottle-roller to the set. Detailed and colorful instructions will tell children about all the intricacies and history of the perfume business.
 What is included in the kit?
essential oil "Orange"
essential oil "Mint"
essential oil "Lavender"
essential oil "Pine"
essential oil "Gvozdika"
Patchouli essential oil
rose oil
beeswax
polysorbate (alcohol substitute)
glass test tubes with stoppers
Pasteur pipettes
perfume bottles
bottle roller for oil perfume
bottle-spray "Heart"
jar for solid perfume
blotters
instruction
 About the series
 Using the "Young perfumer" kits, the child will be able to create his own fragrance compositions and use them or give to friends and relatives. This series is ideal for joint experiences of mothers and daughters. So that parents and children could do everything without mistakes, we created a detailed illustrated instruction. She will also tell you how and why people began to use fragrances, which smells give us vigor, and which - good sleep. In addition, the instruction will reveal some secrets of creating modern flavors. As a fragrance, only natural essential oils are included in the kits.